You've made your final blunder -Dragon in The Art of Wu-Shu
Dragon



Affiliation

The Mountain, Ninja monkeys

Position

Leader of Dragon's Army, Baboon's master, former Valley Guardian

Titles

Dragon

Arts Known

The Dark Arts
Dragon is the supreme leader of Baboon and the Ninja Monkeys as well as the main antagonist of the show. He is a purple and black Chinese Dragon capable of breathing fire. He is the only character on the show that features a pair of glowing white eyes. Dragon is diabolical and extremely hateful. Yet in the main back story, he was once a protagonist.
History and Bio
Edit
Dragon was once a good person who, believe it or not, was the best friend of Panda. When he was young he was given the job of being Heaven's guardian to the animals. However one day Heaven sent a horrible drought to test Dragon's loyalty. Dragon could not bear to watch his friends die and, despite Panda's warnings, used his power of water to make it rain. Of course when he did this Heaven was angered and punished him for his arrogance by taking away his power to fly and made his once beautiful scales black and ugly.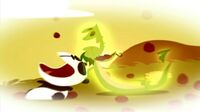 For some reason, Dragon attacked the animals and blamed them for his punishment, chasing them from the mountain with his power of fire. In this rampage he ended up burning a mysterious Lotus Flower which took away his power of water, burning him with his own fire. He retreated into the icy lake of
Lung mountain
to sooth his burns.
In his anger and hatred Dragon blames the animals for his punishment and plots to destroy them completely, raging war. He has a tendency to blame others for things that are sometimes even his own fault, or if he's just mad. He seems to still have respect towards Panda and also misses his old life as seen in The Art of Kung Fruit. Being the dragon that he is his temper gets outrageous with almost everybody, even his own minions. Dragon is very persistent about destroying the animals and will do anything to destroy them. In the art of dream control, we learn he hates blueberries.
Appearance
Edit
Dragon is the largest character in the series. His scales are deep purple with a white stomach. Early concept art suggests that artists were thinking of making him all black, though this idea was never set into motion in the series proper. Dragon's appearance differs from every other character in the show, which has a much smoother, complete look to their design. With the exception of his head, Dragon's entire body is made up of different notches, giving him a more mechanical look than the other characters.
Dragon has goat-like horns, pupil-less white eyes and four fronds on his tail. His mane, beard and eye brows are a dusty dark green. Feelers, present in modern and even some ancient depictions of Chinese dragons, give the impression of a mustache on his lip.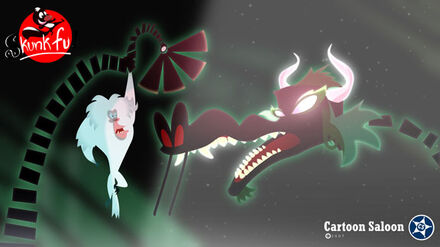 A younger Dragon is seen in the intro to the series and in an animatic by the series creators. The animatic depicts him with wings and his colors being a mix of red and yellow. The intro however, while being in a less detailed style, show him to be goldish in color.
The only other depiction of Dragon without his burns was in the episode "The Art of Kung Fruit" where flashback is shown depicting a yellow-green Dragon and Panda as children on the Hill of Moons.
Abilities
Edit
The only move he seems to be able to do in his cave is breathe fire. Though he still regains his power to give commands to Baboon and the Ninja monkeys.
He is also shown in numerous episodes to have magic on his side. In the Art of Luck he was able to gain the powers of the Jinx's palm and fortunate palm. While in the Art of Stealing he is shown to use crystal in a lot of his spells. He will often use these crystals or spells in his plans to destroy the valley.
Dragon has a major part near the finale of a short story dining on Panda, and later reforms, but still retains his current appearance.

This page needs help to meet Skunk Fu Wiki's standards. Please contribute in editing this page all you can.
Ad blocker interference detected!
Wikia is a free-to-use site that makes money from advertising. We have a modified experience for viewers using ad blockers

Wikia is not accessible if you've made further modifications. Remove the custom ad blocker rule(s) and the page will load as expected.