Frog is a male warrior of the valley. He is ussually quite cheery and happy like Skunk, but doesent go on missions so often. His warrior status isn't official, even though he seems to be quite powerful.

This page needs help to meet Skunk Fu Wiki's standards. Please contribute in editing this page all you can.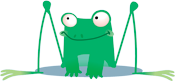 Ad blocker interference detected!
Wikia is a free-to-use site that makes money from advertising. We have a modified experience for viewers using ad blockers

Wikia is not accessible if you've made further modifications. Remove the custom ad blocker rule(s) and the page will load as expected.